Versatile Performance for Any Exercise.
AXIIS MAT is perfect for any exercise routine, whether it's yoga, pilates, or workouts. It can turn any room into a home gym or studio, but rolls up compactly for easy transport and storage.
50% larger than standard mats, rolls up compactly. Offers a spacious workout area with circular support for wide-stance positions.
The 7mm thick AXIIS MAT provides firm support and durability, ensuring optimal joint cushioning during yoga, workouts and weight training.
Hygienic Closed-Cell Construction
Manufactured with closed-cell structures to prevent moisture absorption and eliminate mould and bacteria build-up.
AXIIS MAT & DOCK Unboxing
Unique Expanding Base
Unroll and Maximize Your Workout Space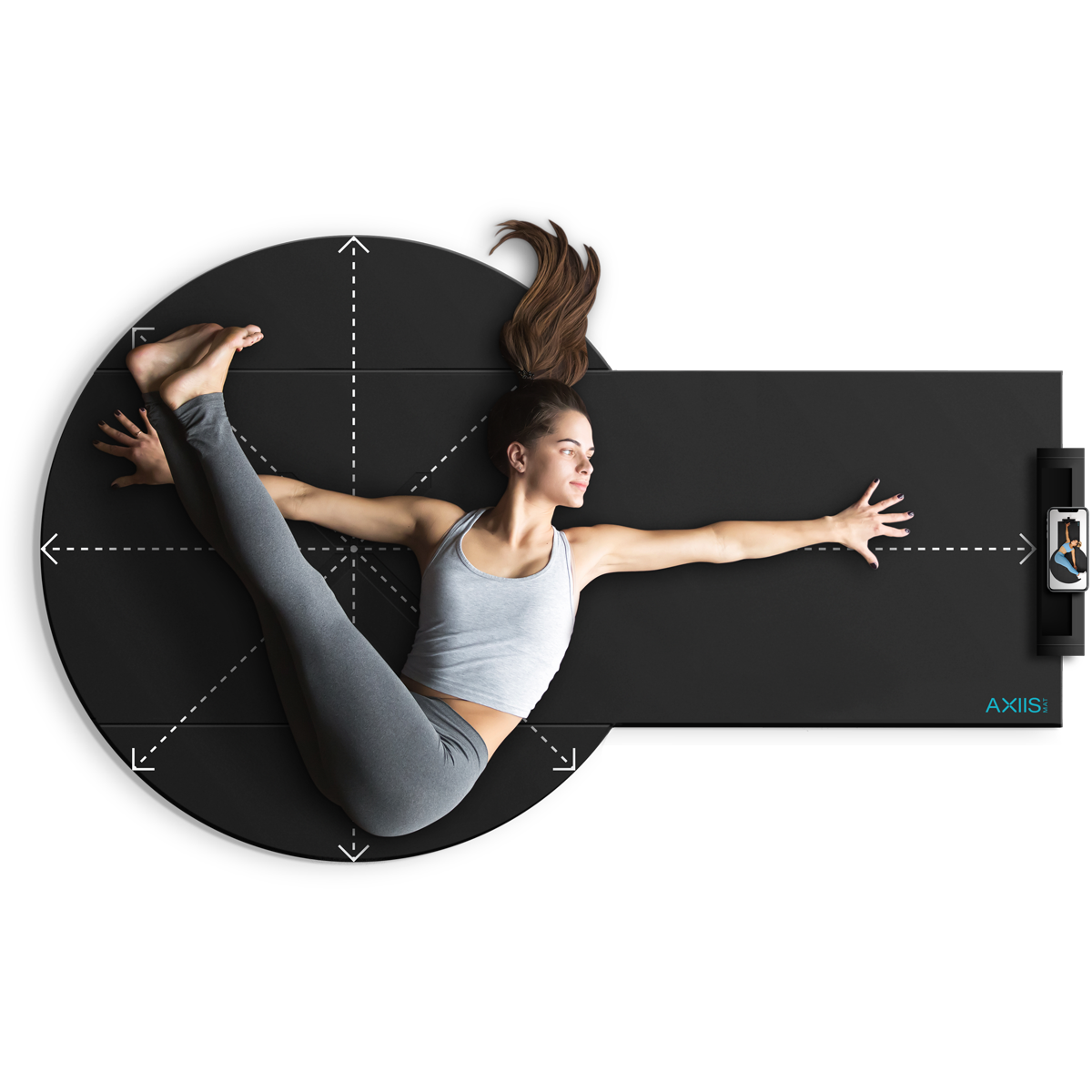 Uncompromising Quality and Convenient Portability.
Experience uncompromising quality and spaciousness with the AXIIS MAT. Meticulously crafted with precision, this fitness mat offers a generous workout area without sacrificing portability. Immerse yourself in the finest materials, carefully chosen for durability and comfort.
The AXIIS DOCK Pairs Perfectly With Your Fitness Mat.
Introducing the AXIIS DOCK: Your versatile exercise mat companion. Attach it to any standard mat, position your smart device at a convenient 45° angle, and enjoy seamless viewing during workouts and yoga sessions. It's portable, with a carry strap for on-the-go training, and even provides storage space for your essentials. Stay connected and organized wherever you train.
The Simplest Ideas Are Often The Best, and That's Where AXIIS FIT Found Its Foundations.
Offering a straightforward solution to frustrating home workouts, AXIIS MAT and AXIIS DOCK were designed to create a better workout experience, and help people hit their health and fitness goals at home.
The AXIIS MAT and AXIIS DOCK were first dreamed up in response to the consistent issues I faced when following online workouts and yoga tutorials. Having completed plenty of device-led sessions on a standard exercise mat, the end result was always the same—a sore neck from twisting in the attempt to view the screen, coupled with the frustration of missing exercises from a phone laid flat on the floor.
With a determination to resolve these common issues for fitness and yoga enthusiasts, we launched AXIIS FIT in 2021. In our plans to create the unique combination of a rotational mat and an angled viewing dock, we wanted to make working out with videos and apps a more enjoyable experience. Although we're in our infancy, the actual concept of the expanding mat and screen prop was in the works for over 2 years before finally hitting the exercise market. We've come a long way, undergoing endless testing and development to produce the ultimate fitness product. 
I am so proud of what we've achieved, and that we can help our customers maximise the quality of their online exercise sessions. It's been an incredibly rewarding experience for me to develop and improve on the standard yoga mat and offer a unique product for all health and fitness enthusiasts. I hope you love working out with it as much as I did during testing and trialling to make sure it could go the distance. 
Whether you've mastered home workouts or are just getting started, I wish you all the best in your health and fitness journey.
Rohan Fisher - Founder, CEO